Roofing Repairs
Roof Repair Professionals
It isn't always necessary to re-roof your entire home. Our expert roof technicians can evaluate your problem and let you know what the best roof repair solution is for you. We not only have years of experience with roof repairs, we also require our technicians to receive regular training to stay up to date on our industry. Our team can tackle just about any roof repair, including recover and tear off roofing repairs, water damage roof repairs, tile roof repairs, shake roof repairs and more! Contact Us today to get fast, quality roof repairs for your home or business!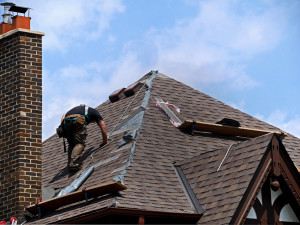 Re-Covers and Tear Offs
Recovering a roof is more cost effective in the moment, however, a tear off may be more financially beneficial in the long run. Recovering a roof may not be possible in some situations, for example, if the roof has already been recovered multiple times, if the roof cannot withstand the weight of the second covering, or if the existing roof is in poor shape. Our roof repair experts will give you several options and estimates regarding recovering your roof or tearing off the existing roof and putting on a new one. We will help you make an informed decision about your roof replacement.
Water Damage
A water damaged roof quickly leads to other problems If water has been able to penetrate the layers of your roof, your home could experience structural problems, health hazards from mold, fire hazards from shorted wires, higher utility bills and other problems caused by pests. Our roof repair specialists know how to spot and how to address all of these issues. Give us a call to see how our roofing repair experts can save you money.
All Repair Types
Our roofing technicians have extensive knowledge on how to do any roof repair that can only come from experience and up to date training. This means that your are getting the most efficient estimates and repair options the roof repair industry has to offer. At Garn-Tee Roofing Inc., our goal is to save you time and money. Let us take care of your roofing needs, so you can get back to what you do best— fast!